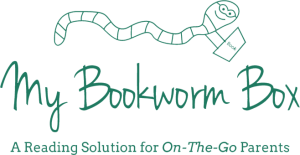 My Bookworm Box is a subscription book box service for on-the-go parents who may not have the time and/or energy to go to the library or bookstore on a regular basis. Our mission is to provide parents with books for their children to read for at least the recommended 15 minutes per day.
Bookworm Boxes are mailed on a weekly or monthly basis for children to read and then return for another box. Our service is geared for newborns through elementary school.
My Bookworm Box was founded in 2018 by Amy Kelly of Westerville, Ohio, in Delaware County. Amy is the mother of two elementary school children. She found that working 8 hours a day, she often lacked a variety of books for her children to read at home.
Amy is a graduate of Ohio Wesleyan University and has more than 20 years of professional experience in the finance industry.
Follow us on Facebook and Instagram!
---